Sanankoro Gold Project
Location
Yanfolila Gold Belt, south Mali
Project Area

Five 

contiguous permits (Bokoro II, Bokoro Est, Dako II, Kodiou & Sanankoro II) encompassing approximately 342 sq

km

​

Gold Mineralisation

O

xides

up

to 207

m depth 

and high-

grade 

sulphides

identified 

at

 

depth

​

DFS &
Optimised Project Economics

52.3% IRR
1.2 year payback period
US$71.8m first full year FCF
US$234m FCF over life of mine
US$997/oz AISC
6.8 years Reserve mine life
56,000 oz pa average production
US$90m pre-production capital

(based on a gold price of US$1,750/oz; announcement 21 November 2022)

Maiden Probable Reserve

10.1 Mt at 1.30 g/t Au for 422 koz

(based on a gold price of US$1,650/oz; announcement 21 November 2022)​

Mineral Resource Estimate
24.9 Mt at 1.15 g/t Au for 920 koz, comprising:

Indicated 16.1 Mt at 1.27 g/t Au for 657 koz plus
Inferred 8.7 Mt at 0.94 g/t Au for 263 koz

(cut-off grade 0.4 g/t Au; announcement 19 July 2022)

Additional Exploration Target
26.0-35.2 Mt at 0.58-1.21 g/t Au for 490-1,370 koz

(announcement 07 November 2022)
Click here for an overview of the Sanankoro Project Area / Sanankoro Gold Project as at May 2023.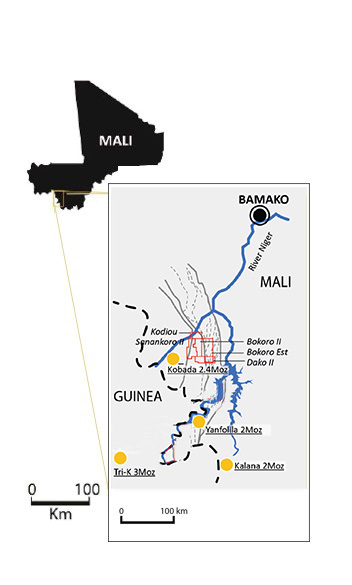 Sanankoro Timeline

Sanankoro Financing
On 13 March 2023, as part of a project financing arrangement with Lionhead Capital Advisors Proprietary Limited ('Lionhead'), Cora closed a subscription for aggregate investments of US$19.803m, comprising US$3.928m equity and US$15.875m convertible loan notes, to primarily fund the development of the Sanankoro Gold Project.
In Q2 2023, Cora appointed Atlantique Finance as its sole adviser in the structuring & mobilisation of a medium-term US$70m loan, which will be used to support all aspects of the development & construction of the Sanankoro Gold  Mine.
Lionhead
The consortium of investors represented by Lionhead comprises highly experienced and successful natural resources investors, including:

the founders of LionOre Mining International (bought by Norilsk Nickel for US$6.3bn in 2007)
the initial investors in Mantra Resources (bought by ROSATOM for AUD$1.2bn in 2010)